If I could make a change in our Kitchen I would have chosen a Stainless Farm House Sink like the one in this kitchen
The Dual Wolf Stove is pretty sweet too not to mention the Sub Zero glass door fridge! This Kitchen has a lot going for it...
It is large but you can also see the recommended kitchen triangle layout between the sink, stove, and fridge.
Very nicely designed
It would have had the look of this kitchen with the dishwasher next to the sink...Yeah don't think Todd will let me change it? His favorite thing to say is. '' sure I can do that when all the other projects are done...In 20years"...Love that guy!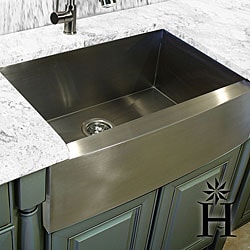 If you are on a search for a Timeless Farmhouse Sink... This one is offered at overstock.com also check out efaucets.com